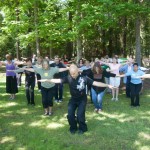 In my Karate days, my daily training was much different than it is today. The famous Karate master, Mas Oyama, offered the following advice:  "Train more than you sleep." 
That was the philosophy that I followed back then. I practiced hard.  I pushed myself.  I trained as much as possible. I suffered, and I endured.  And then I met Grandmaster Wong, who said the following:
"It is better to under-practice than to over-practice." -Grandmaster Wong Kiew Kit
When I first heard my teacher say this back in 1997, I thought that he had misspoken.  Surely, he meant to say that it's better to over-practice, right?  More is better!  Right?
Of course, he didn't misspeak.  Grandmaster Wong said exactly what he meant, and meant what he said.  When it comes to arts like Tai Chi, Qigong, Kung Fu, and Meditation, it's important to avoid over-practicing.  Here's why:
1. Less is More
In my classes and workshops, I always emphasize the importance of quality over quantity.  An analogy often helps students to understand.  Sitting cross-legged on the floor with your eyes closed for 2 hours doesn't mean that you're meditating.  If you're in pain, stressed out, or thinking about lunch, then you're not meditating, and you won't get any of the benefits of meditation.  You will, however, waste two hours of your time.
On the other hand, if you practice Lifting the Sky for only 2 minutes but successfully relax your body and calm your mind, then you're meditating well!  Your results will be dramatically better than the first example because you focused on quality rather than quantity.  This focus on quality is one big reason why my students typically get better results in 15 minutes than most students do in an hour.
If you over-practice, then you are focusing on quantity. But quantity doesn't get you the results you're looking for; quality does.  Switch to a quality-driven approach, and you'll see a huge improvement in your results.  You'll also save a ton of time.
2. Chores are a Bore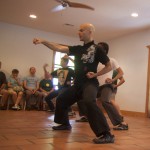 Practicing Tai Chi, Qigong, Kung Fu, and Meditation should not be a chore.  It should be a daily joy.  When I practice, I enjoy myself every time. I never push, and it never feels like a chore.
In my Karate days, I thought that practicing was supposed to feel like work.  It never occurred to me that I was supposed to enjoy myself!  I thought I was supposed endure.  And that's exactly what I did.
One of the biggest secrets that I teach in my classes is how to simply enjoy the experience of practicing.  With these arts, the more you enjoy yourself, the better your results.   So stop torturing yourself, enjoy your practice, and enjoy better results too!
3. Burnout is Bad
As a teacher, one of my goals is to turn fresh beginners into lifelong practitioners.  I don't want students to practice for just a few months or even just a few years; I want them to practice for decades.  But when I succeed in getting students past the critical 3-year mark, there's another problem to watch out for:  burnout.
Having already spent two decades in these arts, I can say that burnout is a serious issue.  It happens to students, instructors, and even masters.  After years of practicing, they get bored, lose motivation, and sometimes stop practicing altogether.
The trick to avoiding burnout is to save your enthusiasm. I tell my students that they should finish each session wanting to do a little more.  Save some enthusiasm for tomorrow's practice session.  Don't throw all of your firewood onto the fire at once.  Always keep some saved, and always keep an ember burning.  That way, the fire of your practice will last a long, long time.   
4. Energy Overload Syndrome
If you've participated in one of my weekend workshops, then you know that we take lots of breaks to answer questions and have interesting discussions. Why?  Because we can't do Qigong all day (at least not the powerful stuff that I teach). 
Believe it or not, there's such thing as TOO much energy.  If you practice these arts correctly, then you can tap a lot of energy in a short period of time.  If you over-practice, then you'll tap more energy than your body can handle.  I call this Energy Overload Syndrome (EOS).
Interestingly, the most common sign of EOS is fatigue.  This happens not because the body lacks energy, but because it has too much. Your body is intelligent and it can recognize when it is overloaded.  The body's natural response is to make you tired so that you will go to sleep.  While asleep, the body will adjust your energy levels back to normal.
The occasional EOS is no big deal.  It happens to the best of us.  But it absolutely shouldn't be a regular part of your practice. 
5. Slow And Steady Wins the Race
Even after 20 years in these arts, I'm still in love with them, and I still practice every day.   In another 20 years, I'm confident that I'll say the same thing.  Why?  Because I pace myself.
If you go too fast, if you don't pace yourself, then you won't last.  I've seen it countless times — a promising student who is enthusiastic but makes the mistake of over-practicing, and then drops out a few months later. 
This is a wonderful journey that we are on with these arts. Slow down, pace yourself, and enjoy the journey!
6. No Pain, No Gain, Insane!
The "No Pain, No Gain" philosophy runs deeply through Western society.  We are conditioned to think that this is the only way to train.  Heck, it's even the way that we're supposed to work!
With energy arts, the "No Pain, No Gain" philosophy is a huge mistake.  It is the polar opposite of what we want.  In my beginner classes, I am constantly telling students that it's more important to make the exercises comfortable than to make them correct. If you are in pain, if you are torturing yourself, then it is absolutely impossible for you to enter into a meditative state of mind.  And if you aren't in a meditative state of mind, then you aren't cultivating energy, period.
It takes time to transition to this new philosophy of softness.  Even students who have been with me for a while still make this mistake.  They know better, of course, but "No Pain, No Gain" is a deeply rooted habit.  It takes time to undo this habit, but it must be done.
7. Injuries Suck
In my Karate days, I had a ton of injuries — two broken noses, a few cracked ribs, two scratched corneas, broken toes, and countless sprains, strains, and bruises.  It was common for us to nurse an injury for at least a few weeks every year.  Even more common was for the senior practitioners and teachers in their 50′s and 60′s to have some sort of chronic injury, like a bad knee. 
If you lose 4 weeks of practice every year to injuries, are you really saving time?  If you had intentionally taken 28 days off throughout the year, maybe you wouldn't have gotten injured in the first place.  The body is intelligent.  If you don't allow it to rest, sooner or later it will force you to do so.
I haven't had a serious injury since I quite Karate in 1998. And you know what?  I'm stronger, more flexible, faster, healthier, and happier than I was in 1998.  I practice these arts to heal myself, not harm myself.  I want to get better over time, not worse!     
Conclusion
By now, I'm sure that you can see the wisdom in the advice that it's better to under-practice than to over-practice.  But will you follow the advice?  Here's one last tip.  If you find that you're not enjoying your practice, or that you're not getting results, or that you're injuring yourself, or that you're thinking of quitting — then remember this article, and read it again.  Maybe at that point, you'll be ready to follow my teacher's excellent advice:  it's better to under-practice than to over-practice.
Zenfully yours,
Sifu Anthony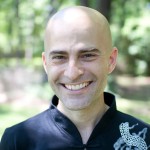 Sifu Anthony Korahais used Qigong to overcome clinical depression, aching low-back pain, chronic bronchitis, and a heart murmur. He is the founder and director of the Flowing Zen Center in Gainesville, Florida, and an internationally recognized teacher in the world of energy arts. To contact Sifu Anthony directly, click here.