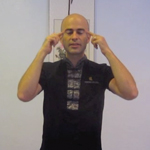 At the end of our practice, we go through a series of steps that we call The Closing Sequence.  This sequence brings three main benefits.   First,  it helps us to transition  from a deep meditative state back to our everyday reality.  Second, it stimulates acupuncture points around the eyes, keeping the them healthy.  And third, it brings energy to the face, helping us to look younger.
You should do The Closing Sequence at the end of every 15-Minute Routine.  You can also do it on its own.  For example, if you're sitting at your desk at work, and you're losing focus, go through The Closing Sequence.  It only takes a minute, and you'll feel much fresher afterward.
Here is a video review of the complete sequence.  You'll also find all of the steps listed below.
Thinking Gently of Dantian
Rubbing the Hands
Warming the Eyes
Patting the Eyes Open
Washing the Face
Combing the Hair
The Point Massage
Rubbing Coins
24 Heavenly Drums
Zenfully yours,
Sifu Anthony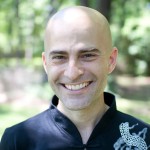 Sifu Anthony Korahais used Qigong to overcome clinical depression, aching low-back pain, chronic bronchitis, and a heart murmur. He is the founder and director of the Flowing Zen Center in Gainesville, Florida, and an internationally recognized teacher in the world of energy arts. To contact Sifu Anthony directly, click here.