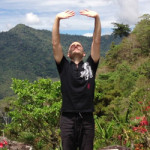 What's the single best health exercise ever invented? The award undoubtedly goes to Lifting the Sky.  This amazing Qigong exercise has changed countless lives, including my own.
Lifting the Sky is the first exercise in two of the most famous Qigong sets in the world:  The 18 Lohan Hands, taught by the great Bodhidharma, and The 8 Pieces of Brocade taught by General Yue Fe.  It's safe to say that it is the most widely practiced Qigong exercise in the world.  And for good reason.  It's awesome.
Eventually, you need to learn this exercise face-to-face from a teacher.  That's because the real secrets are not in the movement, or even the breathing.  For example, the secret of energy flow really needs to be learned face-to-face.  But in the meantime, it's safe to try this on your own by following the instructions below.
Practicing Lifting the Sky for about 2 minutes a day is a great habit, and I highly recommend that you implement it. Start by trying to do it every morning for 30 days.  You'll feel great, and you'll unwind a lot of stress, which is the start of self-healing.  To let go of even more stress, make sure to try my free audio lesson.
Just don't expect to get the same, amazing results that my students get.  To get results like that, you need to learn the full 15-minute routine from me face-to-face, or you need to find an instructor.  Not what you wanted to hear?  Sorry, but it's the truth, and you'd better get used to that kind of honesty if you're going to be spending time on my site!
Edit 1/2/2014:
  You can now watch a video of me teaching
Lifting The Sky
. 
Click here
to watch it for free!
Lifting The Sky – Posture 1

Your feet are close together.
Your mouth is gently open.
Your toes are pointing forward.
Your hands are relaxed by your sides.
Your posture is upright but relaxed.
Your chest is soft and open.
Your nose is pointing forward. 
Lifting The Sky – Posture 2

Your palms face down toward the ground.
Your fingers point toward each other.
Your fingers have some space between them.
Your arms are as straight as comfortably possible.
Your neck tilts down, as if looking at the hands.
Your body remains upright.
Your shoulders remain relaxed.
Your jaw is still relaxed. 
Lifting The Sky – Posture 3

Your arms arc up smoothly to the top.
Your nose follows the movement of the hands.
Your head ends tilting back comfortably.
At the top, you lift up gently from your heels to your hands.
Your arms remain comfortably straight.
Breathe in

gently

through the nose as you arc upward. 
Lifting The Sky – Posture 4

Your arms drop smoothly down, like a bird slowly flapping its wings.
Your wrists are no longer bent.
Breathe out

gently

through the mouth as your arms are dropping.
The neck gradually returns to normal with the nose pointing forward.
Finish in Posture 1.
Repeat.
The four postures are not static, of course.  There are some slight pauses, but they should flow from one to another.  They big secret is to make the exercise as comfortable as possible.  If it's not comfortable, if you're not enjoying yourself, then you're not doing it correctly.  If you have any questions, then post them in the comments sections below and I'll get you some answers.

Go ahead and share this page with friends and family.  Hopefully, you'll pique their interest in Qigong and self-healing.  Who knows, maybe they'll get serious about Qigong and make major changes in their health.   If so, then it will all trace back to the moment when you shared this page with them!  For me, it all traces back to the moment when I found my teacher's book, so I know it's totally possible!

[Update]  To get FREE instant access to an instructional video of me teaching Lifting The Sky, click here.

Zenfully yours, Sifu Anthony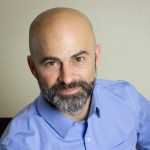 I'm Anthony Korahais and I help people young and old to discover the healing powers of Qigong and Tai Chi. I believe that in order to change the world, we must first change ourselves. I love sharing these amazing arts, especially with people who are fed up with conventional treatments that just aren't working.