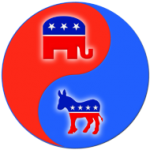 It's election season, which means that political conversations are getting hot.  Are you having trouble finding your Zen during online or face-to-face conversations?  If so, then I've got some ideas for you.
I'm going to assume that your goal is to communicate with the other person (or persons).  If that's not your goal, if you don't want to communicate with them, then that's a totally different issue.  Nevertheless, maybe this article will help you to want to communicate by giving you the tools to do so.
1. Recognize Similarities

Pretend that you're waiting in line at Starbucks, and you overhear two people next to you talking about politics.  After 30 seconds, your blood is boiling.  You consider saying something, but decide to bite your tongue instead.  
"How can anyone possibly believe the lies that _________ is spouting?" you think to yourself.
Sound familiar?  Can you relate to the above scenario?  Were you nodding in agreement?
Okay, let's back up for a second.  Can you also relate to the fact that, this very instant, there are people with opposing political views who are reading this article and nodding, just like you?
If you want more Zen, if you want more peace, then you need to recognize the similarities between you and others.  For starters, recognize that you are both human.  When you leave out the details, both of you are experiencing the world in a way that isn't all that different, right?
Coming back to the example above — do you know what it feels like to have a presidential candidate lie to you?  Yes, you say?  So all that you really disagree about is who did the lying (or maybe who did more lying), right? Recognize that the other person is having an experience similar to yours.  The specifics are different, but the experience is the same.
2.  Right and Wrong
You're minding your own business on Facebook when you encounter someone saying something that's not true.
"______ is a liar!  He/she lied about ________!"
Rather than bite your tongue, you decide to respond.  Here's the Zen response:
"It seems like you're upset because you've been lied to.  That must feel terrible.  I'm really sorry that you feel way."
And here's the un-Zen response:
"You're totally wrong.  If you check your facts (see footnotes 1-38 below), you'll see that ______ didn't lie.  Meanwhile, your candidate lied about ________ (see footnotes 39-57 below)."
As an exercise, let's just assume that you're 100% right.  You've done your research, checked and rechecked your facts, and you know without any doubt that the other person is 100% wrong.  Now I'm going to tell you something that you probably don't want to hear: 
It doesn't matter if you're right.
If you want to communicate with this other person, if you want any chance at changing their mind, if you want to show them how they are wrong — then you need to start by acknowledging them, not correcting them.  You already know how well it works (i.e. not at all) when you jump in and correct someone.  So why not try the alternative? 
Go ahead and try the Zen response I gave above. Seriously, go try it today.  And when you see how amazingly well it works, come back to this article and post a comment below.
3. Acknowledgment
We've established that you need to start by acknowledging the person, otherwise there's zero chance of communication.  None. Zip.  Zilch.  You're both wasting your time.   And especially you.
Let's use logic for a moment.  If you don't acknowledge the person first — then why the heck should he or she listen to you in the first place?  I mean, it's just like religious intolerance.  If I encounter someone who is 100% convinced that their way is the only way, and that there is zero room for discussion — then they're absolutely right.   There's nothing for us to discuss. Maybe this person wants to talk to me in order to "save" me, but I'm just not interested in talking with someone who is unwilling to acknowledge me and my own views.
Starting with acknowledgement totally changes the energy of the conversation. Basically, it says that you are willing to listen.  If you jump straight to the reasons why the other person is wrong, you're saying that you're not interested in that listening thing.  You already know all the answers, and you're selflessly teaching (preaching?) those answers to the poor, ignorant person in front of you.
Let me reiterate that there is 0% chance of you convincing the other person of your view — even if your view is based on verifiable facts — until you acknowledge the other person.  Does this annoy you?  Do you think that politics should be based more on facts than emotions?  Then this brings us to the next point.
4. Be Like Spock
Wouldn't it be nice if the election was just about facts?  I mean, who cares about charisma?  Or body language?  Only the facts should matter!
It's a nice notion, but I'm here to tell you that this notion is, in itself, emotional.  We don't live in a world based on facts.  Why haven't you accepted this fact yet? 
Because you're an emotional being.
Look, even Spock, who was half Vulcan, wrestled with his emotions.  If Spock had such a hard time turning off emotions, is it any wonder that you do too? 
Maybe an analogy will help.  Does sex sell?  Of course it does.  Everyone knows that, especially the advertising companies.  Should it sell?   Or should people be so logical and unemotional that they are totally immune to subliminal advertising? 
It's an interesting discussion, but don't fool yourself.  It's a separate discussion.  Don't start pretending that people are immune to subliminal advertising just because you think they should be.  And in the same way, don't pretend that elections are all about facts just because you think they should be.
When you accept the role of emotions in elections, then you will be in a much better position to acknowledge other people.  And vice versa, if you can't recognize emotions as part of the equation, it's unlikely that people will acknowledge you.  And as we know, without acknowledgement, there's no hope of communication.
5. Say Something Nice
If you don't appreciate anything about the other person, then once again, there is no basis of communication.  Just on principle, why would you want to communicate with someone who absolutely hates everything about you? 
"I'm completely outraged that ______ believes in __________!"
Zen response:
"I respect that you're so passionate.  It's good to see people who actually stand up for something they believe in.  I think apathy is a big problem, don't you?" 
And here's the un-Zen response:
Find something positive about the other person, and say it.  And there's always something positive.  If you can't find something positive in the person, then the problem is yours, not theirs. 
6. Find Compassion
This is a basic tenet in Zen — go deeply into the human connection and have compassion for people.  The Dalai Lama, who on the surface has every reason to hate China for persecuting his people, still has tremendous compassion for the Chinese.  He doesn't condone what they've done (or what they are doing), but he has compassion for them nonetheless.
Ask yourself this — what good result is this person trying to achieve?  Don't get stuck on the reasons you think it's not going to have a good result.  The question is — what good do they think they are doing?
Let's take the topic of gun control as an example.  If you're for gun control, then ask yourself the following question:  What good result is my pro-gun friend trying to achieve?  If you immediately jump to "NOTHING!  GUNS ARE EVIL!!!" then you lack compassion, and communication is going to be difficult.
For example, I know a young woman who was violently raped as a teenager.  She is pro-gun because she believes strongly in protecting herself.  In fact, she carries a concealed handgun on her hip at all times (legally, of course). Whether or not you think that her solution is effective — isn't there something good that she's trying to accomplish?  Underneath it all, isn't she just trying to protect herself from being harmed?  And isn't that, fundamentally, a good thing?
We can flip it the other way too.  For example,  I have a college friend who is strongly anti-gun.  He lives in a crime-ridden area of a major city where kids are frequently killed by illegal guns. So he actively promotes gun control as a solution. Whether or not you think his solution is effective — isn't it a good thing to try to protect innocent children?  Maybe you think that less gun control is the solution — and it's your right to have that opinion — but underneath it all, don't both of you just want to stop kids from getting killed?
Find the common ground.  You'll be amazed at how much easier it is to communicate from a place of compassion.
7. Be The Change…
Do you want more peace in the world?  I do.    That's why I make a strong effort to be peaceful in the way that I communicate.  I don't always succeed, but I learn from my mistakes, and I get better and better at communication.  In other words, I'm making the world more peaceful one word at a time.
If you are consumed with hatred and anger for the opposing political party — a party that will, in the end, represent a huge percentage of the people you live around — then how can there be peace?  If we continue to fight with each other, if we don't acknowledge fellow Americans as human beings, if we can't have compassion toward them — then how can we have peace, internally or externally? 
The other day, I heard someone angrily complaining that there was no bipartisanship in the government.  Meanwhile, I know that this woman is a staunch supporter of one particular party, and that she frequently berates members of the other party, including her friends.  Is that what you call bipartisanship?  If you can't find the common ground with people that you know in person, how can you expect politicians to act any differently?
The American government is supposed to be of the people, by the people, and for the people.  Do you think it is?  Has it ever occurred to you that maybe our government is exactly that?  Maybe our government is an accurate reflection of us, the American people?  In that case, don't we need to change ourselves first?
Be the change that you wish to see in the world.  Be Zen.  Today.  On election day.  And the day after.
Zenfully yours,
Sifu Anthony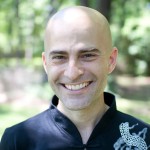 Sifu Anthony Korahais used Qigong to overcome clinical depression, aching low-back pain, chronic bronchitis, and a heart murmur. He is the founder and director of the Flowing Zen Center in Gainesville, Florida, and an internationally recognized teacher in the world of energy arts. To contact Sifu Anthony directly, click here.