Qigong and Tai Chi
An easy, 3-hour workshop that will change your life forever.
Can you boost your body's self-healing ability? Is it possible to relieve stress, have more energy, rely less on drugs, eliminate pain, get sick less often, sleep better, live longer, and generally lead a happier life?  And can it all be learned in one weekend?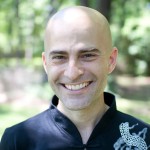 The answer is yes!  I'm Sifu Anthony, and I used these techniques to heal myself of a serious case of clinical depression, aching low-back pain, chronic bronchitis, a weak immune system, a heart murmur, and more.  And my students have used the same techniques to heal themselves of an amazing variety of issues. 
"You don't realize how powerful Flowing Zen can be until you wake up one morning and the health problem that has been plaguing you for nearly 10 years has permanently disappeared." – Shawn Chiusano
People are raving about the results they get with Flowing Zen for one good reason — because it works.  Flowing Zen is powerful medicine.  That's why doctors, nurses, acupuncturists, chiropractors, and therapists all send their patients to me.  And the best part is that it's easy to learn, requires zero athleticism, and can be practiced in only 15 minutes a day. 
"I was skeptical of what possible impact a weekend seminar could have on my medical and emotional problems, but this seminar far exceeded my expectations." – Pat Sager Lane
(Regular: 79.00)
Sale: 49.00
Watch this short video to get a taste:
You will learn to…
De-stress yourself in just 2 minutes.
Enter a deep state of relaxation.
Let go of worry.
Relieve chronic pain.
Increase energy levels.
Feel joyful for no reason.
Understand how self-healing works.
Get the internal energy flowing smoothly.
Clear energy blockages.
Smooth and harmonize the emotions.
Get results on your own in just 15 minutes a day
"I recommend it to my friends and patients as one of the single most effective practices they can choose to improve and safeguard their health. " – Dr. Craig Brown, MD    
Who teaches the workshop?
I do.  I'm Sifu Anthony, the founder of the Flowing Zen Center in Gainesville, FL.  I'm also the Chief Instructor certified by Grandmaster Wong Kiew Kit, an internationally recognized healer and bestselling author.  I live in Gainesville with my awesome wife, Dr. Akemi Borjas Korahais, but I teach all over the world. To contact me directly, click here.
Where is the workshop?
The workshop will be held at the Flowing Zen Studio, located in the Timber Village shopping center on the corner of NW 39th Avenue and 51st Street. The studio is located directly behind Dave's BBQ. Click here for directions
What should I wear?
Just wear something comfortable. Flat-soled shoes or sneakers are recommended.
What about eating?
There are several restaurants within walking distance to the studio.
What if I'm traveling from out of town?
The Best Western Gateway Grand is the closest and nicest hotel. It is 3.6 miles from the studio.
When is the workshop?
The workshop is offered monthly.  Please see the very top of the page (in black) for the next class date.
How do I register?
Registration is on a first-come, first-served basis. Your credit will not expire, but if the workshop fills up, then you'll need to wait until next month.
(Regular: 79.00)
Sale: 49.00
I feel better and take less medication than I have in the past 20 years. – Ellen West, retired school principal